Mckinleymed.co.uk Review:
CME Medical - Home
- CME Medical is the fastest growing specialist infusion company in the UK, providing products for pain management, palliative care and nutrition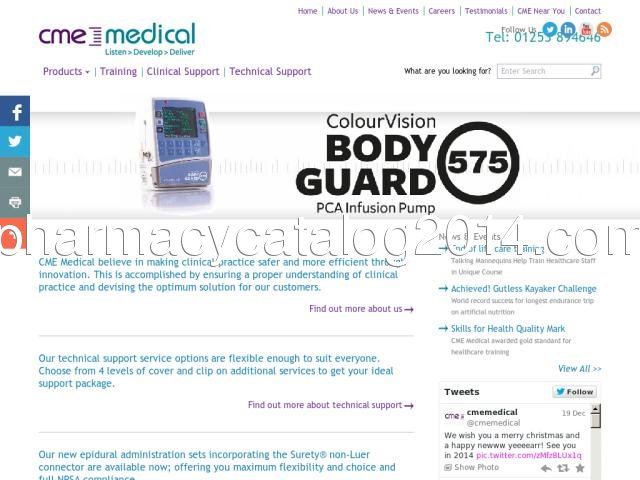 Country: Europe, GB, United Kingdom
City: Lancaster, Lancashire
Donald W. Jordan - Spore--Creative Gameplay

Simply put, Spore is the type of game that I've been waiting for since I first turned on my computer back in 1983. As an adult, I've followed the development of the game for the last 4 years, watching all of the video's I could find. Later, when my son grew interested, we would watch the E3 videos and interviews with rapt attention.

It saddens me that it is this game that a group of hard-core gamers have chosen to strike against for the DRM. Why was there nothing like this with the all of violent or bloodthirsty games out there? You would think that with MMORPGs being as popular as they are, liking to the internet for authentication would be old hat--yesterday's news. OK, so you have to authenticate--if that is what it takes for me to play a game without having to pull out the CD every single time I play it, then so be it. I can't tell you how many times I've wanted to play a game but could only find disk 2 of 2, and couldn't find the play disk. $50 gone. It has been a dream to finally have a game that just runs without the disk--just like all of my business software.

Finally there is a game that is creative and imaginative that encourages creativity and imagination. I play this game with my son--and he develops very detailed back story to the creatures he makes and even writes stories about them. This is what computer games are supposed to do--excite imagination.

The facts:
*Spore is geared to the casual gamer. Maxis has never made a secret of this. There was quite a bit of exposure for this game prior to launch that I'm surprised that more people didn't expect the game to be what exactly what it was.
*Spore is geared to the gamer who likes complexity. For all the criticism of Spore being too easy, it is clear that the first four stages of the game are a tutorial for the last part of the game which is quite extensive.
*Spore encourages creativity. My eight year old son is creating complex structures in the editors that are truly amazing. Several times I thought he had gone to the Sporopedia and selected something that someone else had made, only to find out that he had figured out how to make some very interesting things on the editor. I think this is one of the best parts of the game myself. "It is amazing," he said to me, "how you can make such complicated things out of simple shapes." This was a lesson I hadn't learned until slogging through SoftImage polygons in college. For a 3rd grader to get that kind of exposure to 3D manipulation and modeling is nothing short of amazing.
*Spore is re-playable. I've played through to the space stage with a very aggressive war-like creature and now I've started over to see what happens when I have my creature become a herbivore. You know what? It changes the whole character of the game. Additionally, for those who complain that the levels go to fast, I say it only goes as fast as you want. Stick around in a level and you can find vary interesting things like half buried spacecraft, epic creatures, and some fun Easter eggs. It wasn't until my second time around that I learned that you could even domesticate animals--my son found that by accident.

Note: I am playing the Mac version of the game and after playing for a week, I have yet to see the game crash. It seems very stable on this platform.
JCossack88 - Best of Show

When I was thinking about getting a tablet I considered 3 options: The iPad 2, The Galaxy Tab 10.1, and the Transformer Prime. To be honest I was almost dead set on the GTab 10.1, because it had allshare so I could watch television on my tablet, but I decided to go with this tablet instead. I have had it for about a week so I will tell you what I love, and what I don't.

The Good:
1. IPS+ screen is beautiful. I have never had a brightness issue, and I mainly work outside and I use my tablet all day. It has many brightness settings so you will never have to find a dark area again.
2. Dock station. The keyboard dock is a must for anyone that is going to be doing word processing, massive web use, or needs more battery. The keyboard is awesome and feels very nice. I also like how thin it is when it is closed. Also, because it attaches and detaches I know I won't lose it.
3. Battery life. I am getting well more than a full day of use out of the tablet (with the dock). I work from 7-5 every week day, and use it in the morning to catch up on my news, listen to music, and watch videos. During the workday I use it for about an hour to read over my appointments, create to-do lists, and jot down notes. On my drive home I do some homework for another hour. As soon as I get home I finish my homework and immediately use youtube, netflix, and the web. Now by the time I go to bed (usually around midnight) I have about 90% on the tablet and 30% battery on the dock, so you will never have to find a plug anywhere. But if you just use the tab, you may need a mid day short charge, and it should last well throughout the day.
4. Camera. I own an Epic 4G from Sprint, so this camera is wayyyy better than my phone. It captures images in full 1080p. I also like the camera app this device comes with. Every control is right under your thumb so you never have to move around the screen, which has been great. I do not take a lot of pictures with my tablet, but when I do it is good to know I have a great option.
5. Built in office suite. The TFPrime comes with Polaris office, which is a full office suite, with a word processor, spreadsheet, and presentation builder. They save in microsoft office formats so you can do everything from your tablet. The tab also has a file manager in it, so if you are a student and need to locate your documents to send, you can find them easily in the file manager. This tablet has completely replaced my laptop due to this feature alone.
6. Speaker. I was a little sceptic about the single speaker in the back, but I found that it is amazing! It is very loud and you do not really need to cup your hand to transfer the noise to the front (unless there is a lot of background noise around you).
7. Processor. The Tegra-3 Quad core processor is blazing fast! I saw the video from c-net that said the iPad 2 was better, but its not, there is no slowing this tablet down. I even had 15 programs open at once and noticed no change in the speed. transferring between screens on other tablets is very slow, but the screen changes in real time now that I have this one.

The Bad:
1. Wifi connection: My specific model (which is a C series serial number), has had some issues connecting to wifi. It has only happened twice in the past week, but usually if I just squeeze the top while trying to connect it will connect (which I should not have to do, but it is better than nothing).
2. Finger prints. You will get fingerprints EVERYWHERE on this thing. The screen, the body, the bottom....everywhere. But it comes with a cleaning cloth that is very very very durable, and I noticed that if you clean it right away, you won't have a problem. But if you wait to clean it, you may find it harder to clean. If not, you can just use a little water on your finger and wipe it clean.

If you are thinking about getting this or an iPad you should seriously consider your options. Many people that have iPhones and iPads love my tablet. Mostly because iOS does not have widgets or scrollable wallpapers. Also, you can download many different keyboard apps to help on screen typing to become much easier by using just your thumbs. Also, take into consideration the aspect ratio. The iPad is a 4:3 and this tablet is a 16:4. 4:3 is old square screen (back from the turn of the century), so if you view a lot of widescreen material, which is most media now a days, you will be diassapointed viewing on the iPad, because it will leave two big black bars on your screen (which ultimately makes the image smaller). If you ever watch some commericials on HD channels, some of the commercials are not in HD format so you will notice two black bars on each side of the screen, that is what the iPad is. So when it does view HD or widescreen media, it is not full screen (which annoys me, and is why I decided against the iPad). On this, widescreen is the format, so there are no black bars.
Stacie Jordan "Texas SJ" - The best thing I took on vacation!

We just came back from a trip to Europe and purchased four of these digital books for my mini ipad. I can honestly say that if we did not have these books to help us with the limited in each country the trip would have not been successful. He gives you so much information on how to get around, walking tours to get the most sightseeing including the length of the walk and the amount of time it will take. In addition we did take two tours and although the guides were informative, I was able to share more information and detail about the history and specific works or art, etc. In the future, if there is a Rick Steves' book to purchase for my trip, you can bet I will download it. The downloads allowed me to carry four books without any additional weight. That plus the addition to Google Maps GPS features, we were world travelers!
diana - so easy to use

I have a Dell Windows XP Home Edition 2002 version which works fine, but needed more data storage. I inquired with Dell customer service and they suggested the Seagate Expansion USB 3.0 Desktop External Hard Drive. Upon receiving this external hard drive, I plugged it in following the easy directions and the rest was simple. This was all I needed to free-up my computer and have it function normally again. No need to buy a new computer.
Blessed_Wife - So impressed!

My husband, for the longest time, doesn't want to get a GPS for himself because he just relies on the printed pages of mapquest. We were scheduled to go on a road trip on the last week of October so I thought of surprising him with Garmin nüvi 40LM 4.3-Inch Portable GPS Navigator with Lifetime Maps (US) the week before our road trip. After reading many reviews, I decided to get this one and I'm so glad I did, my husband is even happier!

The features that we like the most about this GPS are:
1. It is fast in finding satellite so you can start driving right away once you input your destination.
2. Split screen mode - it is very helpful when you are in an unfamiliar place, you surely won't miss the road / lane you need to take when it goes on split screen mode.
3. Speed limit - it shows the speed limit of the road you're on and your speed as well; if you go above the speed limit, it'll display your speed in red color so you can always tell when you're speeding or not (there were quite a few roads we passed by where the speed limit is higher by 5mph than what was shown in the GPS; but I think I just need to update the map to resolve this issue).
4. It tells you the name of your destination when you get there (i.e. arriving at Holiday Inn Atlanta on the left) - my husband and I just find it cool. The older Garmin GPS (don't know the exact model) of my husband's dad just says "arriving at destination on left".

Of the whole week that we were on the road, it misbehaved twice only; but to me, it doesn't diminish a star for what it did for us the whole time we're on our trip. I've never written a review before so that tells you how impressed I am of this GPS. :)