Sprachaufenthalte.ch Review:
Allegra - Sprachaufenthalte an hervorragenden Sprachschulen weltweit.
- Allegra - Sprachaufenthalte sind unsere Leidenschaft. Einfache und günstige online Buchung inklusive guter Beratung. Allegra bietet Sprachaufenthalte an ausgesuchten hervorragenden Sprachschulen weltweit an.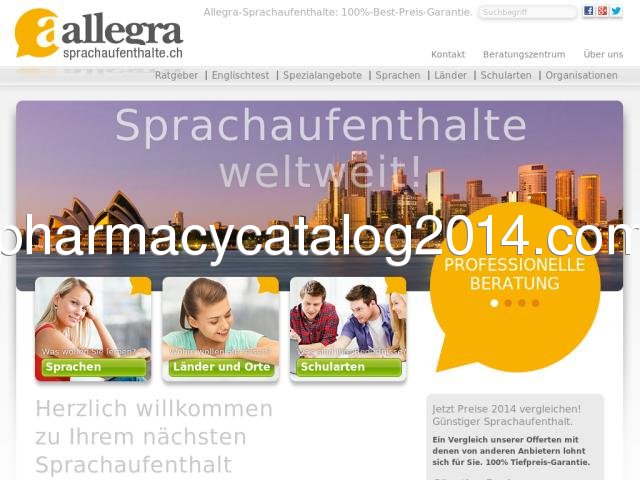 Country: Europe, CH, Switzerland
City: Zurich, Zurich
C. Williamson - The usual fine reading, plus some real gems...The problem with an annual "best" volume is that one person's "best" may be another person's "meh," and such is the case here. The mystery genre seems to have become the *crime* genre, and a better title might be "The Best American Crime Stories 2013." I'm a bit saddened by the lack of actual mysteries here, in which a puzzle needs to be solved and a culprit revealed. The majority of these tales are more dour and somber noir than tea cosy, with people making bad choices and paying for them, rather than people trying to solve an actual mystery. That said, the writing is of a high caliber throughout, with very few exceptions. "The Sailor in the Picture" by Eileen Dreyer, is a highlight, with a beautifully recreated 1940s setting, an intriguing plot, and a "howdunnit" that retains its suspense until the final, wrenching sentence. Ben Stroud's "The Don's Cinnamon" is another actual mystery, with a disappearance to be solved in old Havana -- gruesome and surprising. Of the more noir stories, Randall Silvis's "The Indian" is powerful, the stuff of Jacobean tragedy with an equivalent body count, and Hannah Tinti's "Bullet Number Two" packs a punch in just a few pages. Remarkably enough, my favorite story was the oldest, a tale by the late Maurine Dallas Watkins, best known from writing the 1926 play, CHICAGO. "Bound" is delightfully old-fashioned, and a perfect way to end this volume. A creature of its time, it has its share of stock sentimentality, but it presents a fascinating story told in a clever way, and holds on to its secrets until the last. All in all, this is another very well-selected volume of crime stories that reflects the best of today's genre writing. You probably won't find everything to your particular taste, but there will certainly be enough for several evenings filled with darkness.
Sandra L. Setlak - CrossroadsFantastic Book. I could see this situation really happening. Well done, great writing as usual with Radclyffe. Loved the medical references which is her strength!

Great story, Enjoy
Thoughful Consumer - Great Machine!I use this everyday! It makes awesome smoothies. I saw the Nutri Bullet on one of those infomercials while I was at the gym. Of course, I was skeptical. However, I read the reviews on Amazon and I watched a number of videos on Youtube. It seemed like a good product, so I bought it. I love it. It's quick and easy to use. The clean up takes literally 10-15 seconds. Just rinse the cup and the blades and you're done. I had one of those juicers that you have to scrub the filter and clean everything for 10-15 minutes. I used it once. In fact, it's sitting in my storage room having only been used once. Will this pulverize everything to a fine mist? No. But it is a very smooth consistency and I use various combinations of kale, oranges, carrots, apples, bananas, pineapple, mangoes and ground flaxseed. It's a good buy.
Betsy Lee Bohannon - Caution: disturbing subject matterThis is a very well-researched and well-written book. The author deftly ties together the history of this country in general and the police in particular and weaves into it the decisions of the Supreme Court that address the rights of the police to invade our homes. Unfortunately, the subject matter is very disturbing. Many, many examples are given of heavily armed SWAT teams doing no-knock raids of the wrong house and almost routinely shooting the household dogs, sometimes trashing the house, terrorizing the occupants and then leaving without so much as an apology. I was not aware of the extent of the militarization of the police and it is very alarming to read this book. Through the ridiculous "war" on drugs, we have authorized vast increases in the power of the police. This book is a must-read. Sadly, there will have to be another book on this country's obsession with "wars." We have the war on poverty, the war on drugs, the war on terror, the war in Iraq, the war in Afghanistan, the war of the drones, etc., etc., etc. Have we won any of them???? This book makes it very plain, without explicitly so stating, that we need to let the drug "war" go -- it has become a war against the American citizen.