Tjnm.tsnmjournals.org Review:
Turkish Journal of Nuclear Medicine
- Turkish Journal of Nuclear Medicine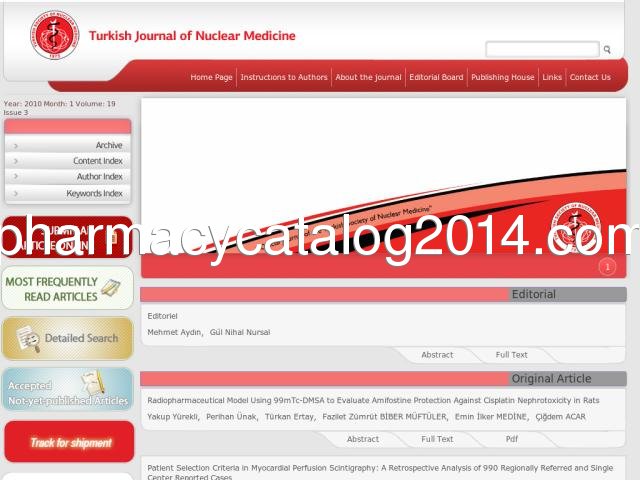 Country: Asia, TR, Turkey
B. Taylor "Bryan" - Better Than The First Edition!There is just so much new information in this second edition of "How to Avoid Huge Ships." it is uncanny the innovative knowledge Trimmer provides in this second edition of "How to Avoid Huge Ships." Word on the water is, Trimmer is preparing a third edition for "How to Avoid Huge Ships" which is positioned to change the ship avoidance world forever. This will be a course changing experience.
Patrick Sims - The GOLD STANDARDBest STEP preparation book hands down. And everyone knows it. I don't know a single medical student not using this book to prepare. Use it as your mainstay for the test and use BRS/Rapid review subject books to fill in the gaps.
M. Miri "MM" - Excellent PING bagThis bag has it all... Plenty of room for the clubs thanks to the individual club slots that can carry up to 14 clubs. There is plenty of storage space and it even has a cooler pocket that keeps beverages and other items cool. You could even put Ice in the cooler pocket as it does have a drain hole so you aren't slushing around melted Ice. An Ice pack would be preferable though. There is also a pocket that has a soft velvety lining to store other items that should not be mixed with golf equipment.The entire bag is made of durable nylon. It also has 6 loops for tees and 2 pen/pencil holders on the outside. The bag also comes with a rain/travel hood that snaps on, but if you are going to check these on a plain, a travel case is recommended. This is definitely a cart bag and does not have legs so make sure that is what you want before you buy it. Otherwise get a stand bag.
Rayn Drahps - Awesome non-full frame lens.I've had this lens for about a year now and it is one of my favorite's to shoot with. The pictures always surprise me when I get back home after a day out and about. Even with 3.5 as its lowest aperture you can get amazing low light shots without a flash, even hand held. Personally I bought this expecting distortion which is kinda what I wanted but the only times I've really noticed distortion is shooting straight up the side of a skyscraper at 10mm. Almost all distortion goes as soon as your start zooming.

It's also held up really well to my abuse. I've taken it out to the middle of the desert in early spring, a day at the beach where it was so cold my hands cramped up before my camera did and there was lots of swirling dust and being jostled by kids at the California Academy of Sciences. If this wasn't an EF-S I'm sure it'd have a good chance at being considered an L lens. It has definitely been worth the price for me. I'm just sad I won't be able to use it on the 5D Mark II when I get it.